Diabetics have a great option to add to their diet. Peanut/Peanut Butter is found to be low on Glycemic Index, which implies that it will not spike up your sugar level and is a healthy energy option. The trick is to keep the portion control in mind.
Peanut Butter Calorie Count
100gm: 588 calories
1tbsp: 90 calories
Homemade Peanut Butter Recipe:
INGREDIENTS:
DIRECTIONS:
In a food processor, add all of the ingredients. Pulse until crumbly and flour-like, then grind constantly until the mixture is smooth and buttery, scraping down the sides of the bowl as needed (depending on the processor you use, this could take anywhere from 5-15 minutes).
Pour the mixture into jars, seal tightly, and refrigerate to store.
Peanut Butter Toast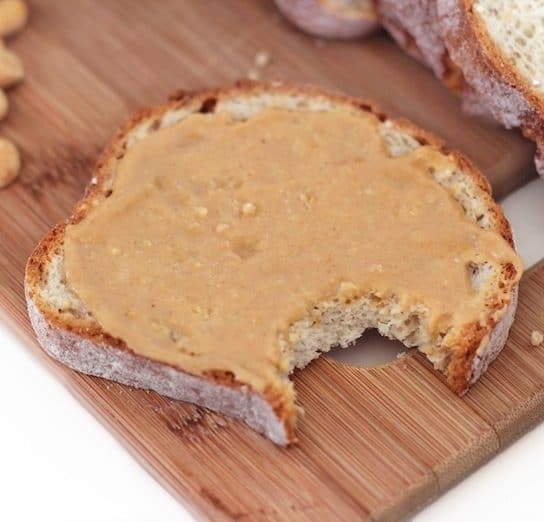 Spread a tbsp of peanut butter to a toast of whole wheat bread for that easy and quick breakfast or a fix a quick evening snack.
Peanut Butter Cookie Recipe
Ingredients
1

cup sugar


1

cup peanut butter


1

egg

Sugar

Directions
Preheat oven to 375 degrees F. Grease cookie sheets or line with parchment paper and set aside. In a medium bowl, stir together the 1 cup sugar, the peanut butter, and egg until well mixed. Using your hands, roll peanut butter mixture into 1-inch balls; place 2 inches apart on prepared cookie sheets. Flatten each ball slightly with a drinking glass that has been lightly greased and dipped in sugar. Lightly grease a small star-shaped cookie cutter; dip in sugar. Press into the center of each cookie.

Bake about 9 minutes or until edges are set and bottoms are lightly browned. Makes 36 cookies.
Nutrition Facts Per Serving:
Servings Per Recipe: 36
PER SERVING: 66 cal., 4 g total fat (1 g sat. fat), 6 mg chol., 35 mg sodium, 7 g carb. (6 g sugars), 2 g pro.
Do leave your comments and share your peanut butter recipe ideas for our sweet people.
Till next time!
Love,
Recipe Credit:
https://dessertswithbenefits.com/healthy-homemade-peanut-butter/
http://www.diabeticlivingonline.com/peanut-butter-cookies